Since the beginning of May, Gerry Small, Educator and Financial Empowerment Motivator, has been working alongside the Vita Centre: For Pregnant and Parenting Youth, one of five Peel community organizations that have played an instrumental role in getting their families to learn more about the Canada Learning Bond and how to claim it. By simply choosing to apply, each CLB-eligible child per family was given a redeemable $25 gift card, which has over 80 retailers, restaurants and services to choose from.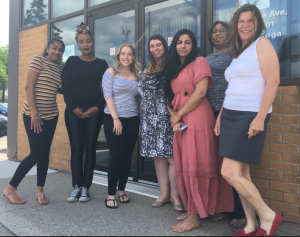 Vita Centre supports parents of children 0 to 6 years of age, who are vulnerable for any of the following reasons: living at or below the poverty-line, homelessness, single-parent families, victims of domestic violence and abuse, newcomers, including refugees, and social isolation.
Community Counsellor, Gabriella De Napoli, shared that through their "1:1 counselling and group parenting programs, Vita Centre aims to provide our clients with a safe place to strengthen positive decision-making skills, create goals related to the Social Determinants of Health, and gain access to important resources to achieve those goals."
Vita Centre's Executive Director, Susan Robins said that their "goal is to help parents improve their emotional, physical, social and financial well-being, to create the best possible outcomes for themselves and their children."
Vita Centre was not alone in raising awareness of the CLB; well-known Peel community organizations and businesses, such as: Knowledge Bookstore, Canadian Mental Health Association Peel Dufferin, Peel Poverty Reduction Strategy, Grace Place, Angela's Place, and the Barbertown Co-Operative Home have all stepped up and played a huge role in spreading the word.
Don't let your family to miss out on the chance to receive $500 – $2,000 from the Government of Canada for your child's education savings! There is no cost for families to apply. Parents should apply at www.StartMyRESP.ca/ACW. Remember that Another Child Wins when claiming their CLB!
By: Gerry L. Small, Educator and Financial Empowerment Motivator